Conferences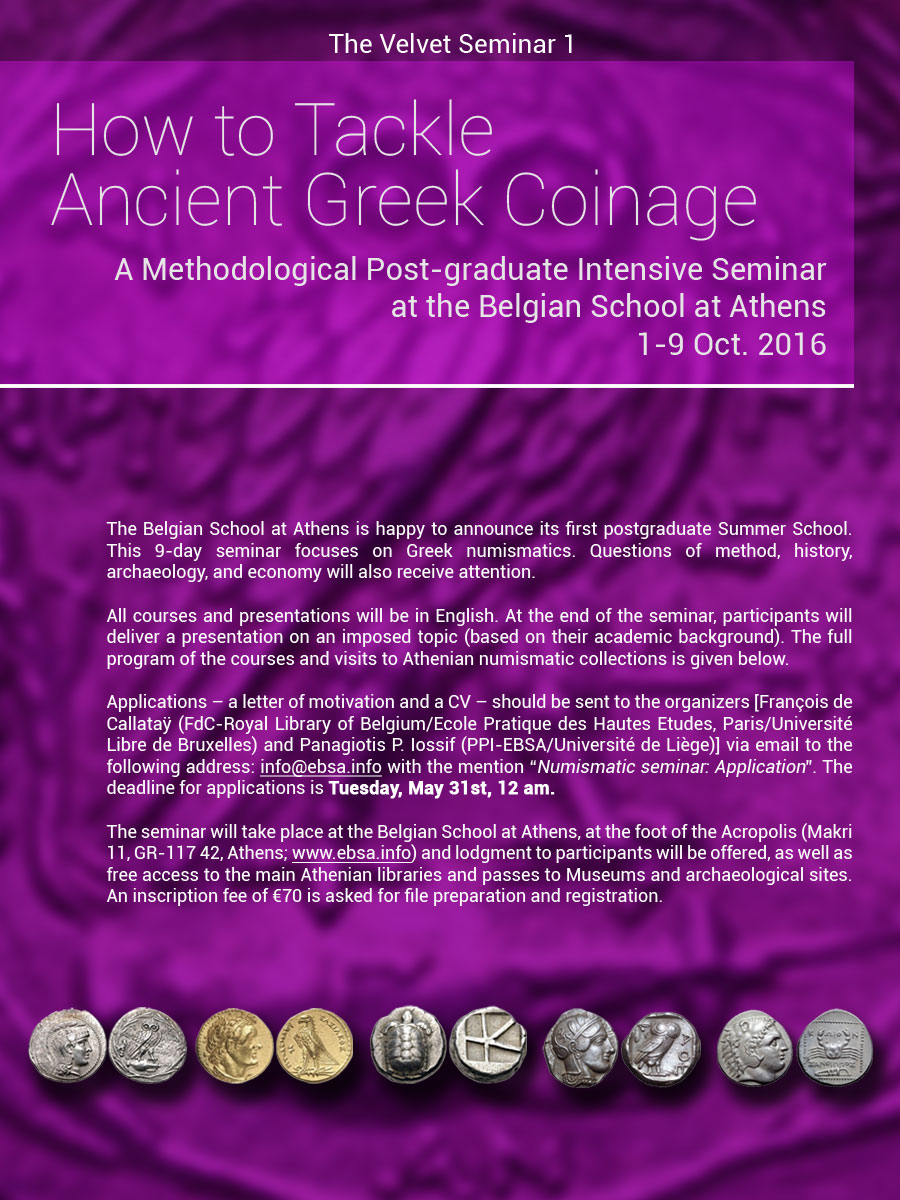 Velvet Seminar 1: Numismatic seminar - Sponsored by European Dynamics
How to Tackle Ancient Greek Coinage: A Methodological Post-graduate Intensive Seminar at the Belgian School at Athens (1-9 Oct. 2016)
The Belgian School at Athens is happy to announce its first postgraduate Summer School. This 9-day seminar focuses on Greek numismatics. Questions of method, history, archaeology, and economy will also receive attention.
All courses and presentations will be in English. At the end of the seminar, participants will deliver a presentation on an imposed topic (based on their academic background). The full program of the courses and visits to Athenian numismatic collections is given below.
Applications – a letter of motivation and a CV – should be sent to the organizers [François de Callataÿ (FdC-Royal Library of Belgium/Ecole Pratique des Hautes Etudes, Paris/Université Libre de Bruxelles) and Panagiotis P. Iossif (PPI-EBSA/Université de Liège)] via email to the following address: info@ebsa.infowith the mention "Numismatic seminar: Application". The deadline for applications is Tuesday, May 31st, 12 am.
The seminar will take place at the Belgian School at Athens, at the foot of the Acropolis (Makri 11, GR-117 42, Athens;www.ebsa.info) and lodgment to participants will be offered, as well as free access to the main Athenian libraries and passes to Museums and archaeological sites. An inscription fee of 70 € is asked for file preparation and registration.
Program
1/10 Saturday
9h-12h General introduction
-Topics assigned to the students
-Monetary history: a general overview of issues (FdC)
-Numismatics: a general overview of tools (FdC)
15h-18h Inside and outside the mints: methodological issues from issuers to users
-Quantification of ancient coinages: techniques and benefits (FdC)
-Iconography of Greek coins: problems and methods (FdC)
-Iconography of Greek coins: quantifying iconographic types (PPI)
2/10 Sunday
9h-12h Metrology and archaeology
-Greek coin weights: historiography and methodological problems (FdC)
-Greek coins in archaeological context: methodological problems (FdC)
-Greek coins in archaeological context: the Seleucid paradigm (PPI)
15h-18h Methods for numismatists: die studies and hoard analyses
-Die studies: a methodological introduction (PPI) & practical exercises (FdC & PPI)
-Coin hoards: what questions hoard analysis can answer? (PPI)
3/10 Monday
9h-12h Introduction of bronzes
-Precious and petty coins: introduction of bronze coins in the Greek world (PPI)
-Visit to the KIKPE foundation: Bronze coins presented by Vasso Penna
15h-18hFrom coins to… economies (a)
-Greek coins, wars and mercenaries: a general frame (FdC)
-Gold coins of Alexander the Great and the link with economic growth (FdC)
4/10 Tuesday
9h-12h From coins to economies (b)
-Plautus and Terence: possibly our best opportunity to study the Hellenistic economy and monetary matters in movement (FdC)
-Comparing economic models: a methodological introduction Ptolemies versus Seleucids (PPI)
15h-18h Greek numismatics and IT
-How to create numismatic databases? (PPI)
-Online resources and open access data (PPI)
5/10 Wednesday
9h-12h Visit Alpha Bank: Presentation of the collection by Dimitra Tsangari
15h-18h Roman coinages in the Greek world
-More than it would seem: the use of coinage by the Romans in late Hellenistic Asia Minor (FdC)
-The Coinages struck for the Romans in Late Hellenistic Greece: a quantified overview (FdC)
6/10 Thurdsay
9h-12h Conferences
-The coinages of the Cypriot kings (Evi Markou)
-Conference by Yannis Stoyas
15h-18h Conferences
-Macedonia before Alexander the Great (Sophia Kremydi)
-The Macedonian coinages of the Antigonids (KaterinaPanagopoulou)
7/10 Friday
9h-12h
-Numismatics as a historical discipline. The contribution of epigraphy and history (Selene Psoma)
-Library work for the students
15h-18h Coins and religion
-Coins and religion: coins as markers of religious information (PPI)
-Comparing the numismatic iconography with other media: a methodological warning (PPI)
8/10 Saturday
9h-12h:Coins and art
-The beauty of Greek coins: reasons and historiography (FdC)
-The Hellenistic portraits: uses and misuses of the numismatic evidence (FdC)
15h-18h
-Progress report on student's studies
9/10 Sunday
Student's presentations